Grading at Piet Wannenburg's Property
Well, where to start. What a trip, what an opportunity! I have competed and judged horses at top level including The Royal International Horse Show and The Horse of the Year Show, but I have never judged livestock. So the invitation from Ian Johnson to join a group of fellow Boer Goat breeders on a visit to the HOME of the boer goat, South Africa, was too good to be missed. Our mentor was to be Kobus Senior Lotter who is a world renowned expert on the Boer Goat.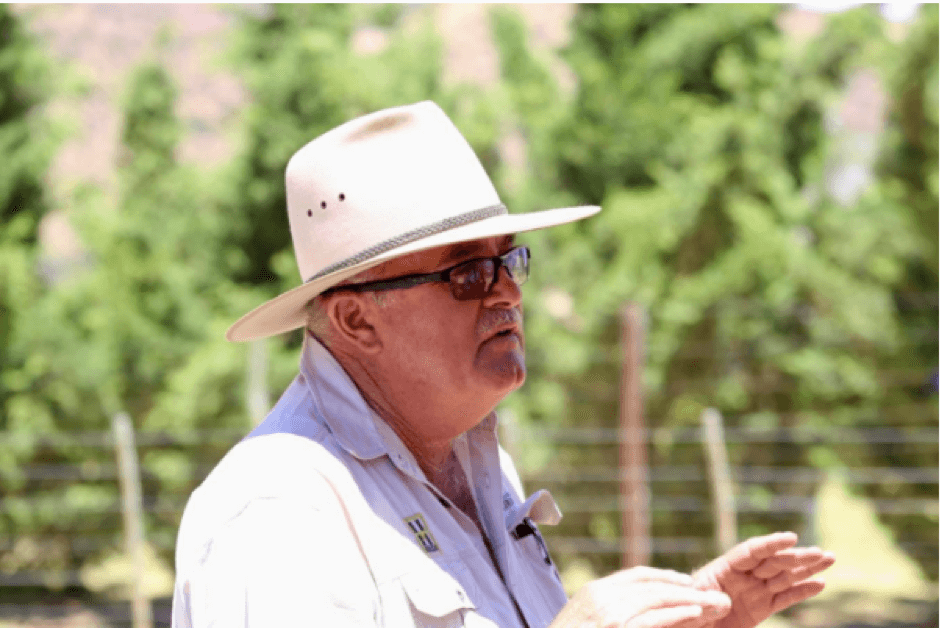 Kobus Senior Lotter
We were all meeting up at Heathrow and flying out to Jo'burg with Virgin Atlantic, it is quite a long flight at just under 11 hours but by the time you have had some dinner, watched a couple of films and had a doze it didn't seem too bad. On arrival it was obviously warmer than England but cloudy. Then on to a connecting flight to George, duration just a couple of hours. Chance for another doze and a swotting up of the BBGS Breed Standard Booklet, sad I know!
On landing, hooray, brilliant sunshine, blue sky and lovely dry HEAT. Ian had done a great job booking two virtually new 4 x4's for us all and off we drove to our ultimate destination -Willowmore. What beautiful scenery and it was amazing to see fields full of ostriches which was a sign of things to come. Louretta Lotter met us at the guest house and showed us around and settled us in. Super accommodation and spotless. We were to have our meals at the Lotter family's main guest house, The Lapidaria, just a short distance away. After such a long trip we were all looking forward to dinner and drinks and then to bed!
The Lapidaria Guest House
I knew some of the group, Ian Johnson, Cathy Whale and her partner Gil Liddle, Marie-Amber Smith and had met Chris Nye when he was judging at Royal Welsh Spring Festival, Gordon Smith and Bradly Yule were new to me but it soon became apparent we all had the same sense of humour which helped the trip go with a bang! Bradly is a zoologist and also a very good photographer and he remained patient with us all throughout the trip as we asked him endlessly to identify the huge variety of wildlife that we saw. The majority of the photos which accompany this report are courtesy of Bradly, thank you Bradly.
Day 1 morning and off we set in high anticipation to the Lotter family farm, where on this area, Kobus Junior had his house. Some of the roads were tarmac but only the width of a car and half so in the unlikely event of meeting traffic one had to pull off the road partially on to the rough stone at the sides, dust storm didn't come into it! Then off the tarmac and on to rolled stone roads, pretty rough, and we wouldn't have wanted a puncture with the snakes about!
No Traffic Jams Here
Kobus Senior Lotter met us at the threshold and we first saw approx. 70 goats with their kids who had been gathered in off the veld so that we could see how well they looked despite the rough sparse vegetation and the worst drought for 30 years. Some of the paddocks are irrigated to provide grazing and also Lucerne is grown. Bore holes were providing water which supplied many, many paddocks. These had high fences around them to deter the large variety of antelope from pinching the valuable green stuff! However it didn't deter the monkeys of course of which there are a huge variety and evidently baboons are a real threat to the goat kids.
Kobus had open sided barns and holding pens where we were grateful to get out of the sun in order start our Junior Course. We all introduced ourselves and Kobus had some goats bought in so that he could explain the finer points of the Boer goat and start to discover what we all knew of the Breed Standards. He also explained how the Breed Standard was relevant to the living, everyday goat not just show animals. He asked that he would like us all individually to discuss each goat as it was bought in, starting with the positives and then the negatives and then in which of the 3 sections available we would place them. Kobus would then question our reasoning or push for more info, agree or just tell us we were plain wrong!
Goats gathering in front of workers quarters prior to assessment
Interestingly, the grading of goats numerically ie. 1 to 9 has now been discontinued in South Africa. Currently, when grading or quantifying goats, they place them into 3 groups. These being Cull, Flock or Stud. It was quite daunting but after a few deep breaths one tried to relax and speak up with authority!
Day 1 afternoon, after a good lunch provided by Mrs Louretta Lotter, who was always so welcoming and hospitable and arranged feeding and 'watering' us all with 3 meals a day in a seamless fashion, we moved on to looking at young bucks. These were out in paddocks and I was glad to have long trousers and sleeves, and a brimmed hat, phew! By the end of the first day we had all 'processed' about 80 young goats. Kobus said he was pleasantly surprised by the knowledge we had and said he would be happy to train us on further for both the Junior and Senior School courses.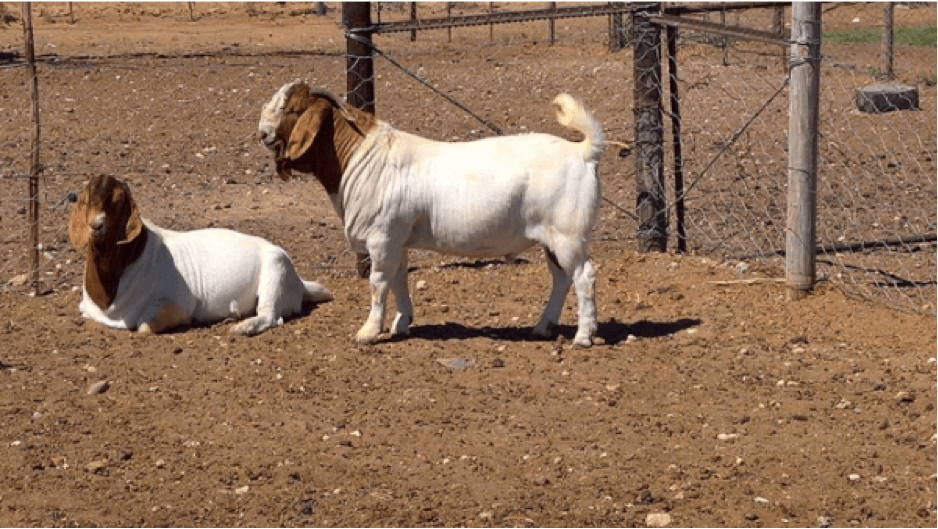 Young Bucks
Day 2 morning dawned with THE most intense blue cloudless sky and we travelled about 70 miles to the farm of Piet Wannenburg. Kobus was doing a formal 'grading' of this boer goat farmers' animals. Piet was very generous and allowed us to take part. The first section comprised of approx. 120 female kids, we all had to take it in turns to as quickly as we could assess cull, flock or stud on each one. We had to be fast as this was real life so to speak and the farmer needed to get on with it. Then we sorted thru males using the same process. The intense heat and dust just added to the pressure. Kobus then supplied us with our clip boards and the exams began….we had to write down the plusses and minuses of groups of females and then males and then hand the paperwork in, gulp.
Junior Course in progress
Day 2 afternoon we travelled onwards at speed, Kobus is not a man to hang around when behind the wheel by the way, to the beautiful home and farm of Callie Wannenburg. On the way we ended up travelling behind an open top lorry transporting ostrich which kept bobbing up and down looking at us over the top of the rails, surreal…..
Ostrich transport on the Eastern Cape
The Wannenburg family as well as having some of the best boer goats in the world also farm ostrich so we passed field upon field of these amazing birds. Callie and Kobus are part of Doornport Genetics who have a pool of 2700 amazing top quality Boers. Callie and his excellent help displayed to us the most beautiful selection of boers of different ages and both sexes, outstanding. Callie was so hospitable and organised a lovely lunch for us all
Beautiful does of Callie Wannenburg
After lunch, as part of the Junior Course we assessed more does at the excellent facility on Danie Schoeman's farm. His round handling pen kept the goats relaxed and enabled us to study and write down their details very easily. We just had to get it right!
We then travelled back to base via the Black Mountains along a magnificent route and Kobus took us to the beautiful Meiringspoort Waterfall . It was there that Gil Liddle amazed us all by leaping into the lagoon below the waterfall from a height of at least 20 metres! This earned a round of applause from the onlookers and the admiration of the whole group!
Day 3 morning and we returned to the Lotter farm and met Jonny Henderson, another man at the top of the South African boer goat world, who would be examiner for the Senior School. We had a very intense morning of individually assessing does and going thru each one in detail. It was fascinating to listen to such an expert and a great opportunity to learn from another of the best. At this level Kobus had selected animals that were of an even higher quality with more subtle differences, far more challenging. We then practised judging, individually, groups of 7 does and placing them in order. We had all started to dread somewhat the appearance of the clipboards, there were our thoughts and decisions in cold ink, tension was increasing! It was divulged just prior to lunch that in the afternoon we would be executing the first part of the Senior School with the does, this didn't aid digestion!
The does were labelled from 'A' to 'F' we had the opportunity to look at each one individually, allowing them to stand or making them move around to asses gait. Once again identifying in writing their plusses/minuses and category, then the does were all put in together and we each wrote down how we would place them.  Jonny Henderson then spoke to each of us on our own in the paddock with the does and enquired as to how and why each one of us had made our decision. It was very easy at this point to start doubting our own eyes, but one had to stick to ones guns and explain with authority! Oh my…
Jonny Henderson, Kobus, Team UK and labelled does
That evening it was great to let our hair down and we all had a wonderful meal courtesy of Louretta Lotter and her team. I can honestly say I have never been presented with such an enormous but absolutely delicious steak! Lots of chat and fun and we all went off to bed hoping that the day's results were good and that the next day would be even better! At this point the women were just edging the men so all to play for!
Day 4 morning our destination was the farm of Boy Lotter and it was there that the Senior School buck assessments would take place. Very well organised as we had come to expect , we started with buck kids who were absolutely astonishing. I would love to have bought at least 3 of them home, sadly not possible. The next through for individual inspection, all in front of our group, were the bucklings. Again the standard of the male goats was on a different level. Clipboards were whisked out and off we went into the paddock where the adult bucks for our exam were each sent down the race, deep breaths! At this point we were familiar with the format and we all had our heads down and were focusing like mad. One particular buck was a real trixster of a goat! He came swaggering into the paddock with loads of charisma, a beautiful head and horns and one thought WOW. However the more you looked around him the negatives just slowly built up so first impressions were wrong! The Senior School was finished by lunchtime and Boy invited us into his beautiful home. Lunch was truly delicious and cold drinks were so welcome as it was another astonishingly cloudless day and 33 degrees. Throughout the week Team Lotter had provided cool boxes with cold drinks and sweeties in order to keep us hydrated and the blood sugar levels of us candidates up, no details were missed.
Buckling of Boy Lotter
Day 4 afternoon and as I sat at the lunch table I felt slightly like a balloon with a very tiny puncture!  After such hectic days and with us all concentrating so hard when the pressure was then gone, it was 'phew' I cannot do anything more…We had a relaxed drive 'home' to the guest house for beers and rumination. It was agreed that we had covered approx. 600 miles and had sorted thru, discussed and assessed approx. 550 boer goats of various ages. WHAT an adventure, WHAT an opportunity (thank you Ian Johnson), WHAT fun, thank you Cathy, Gil, Marie-Amber, Gordon, Chris and Bradly. I passed both the Junior and Senior Course and so I am really thrilled. We were all so unbelievably lucky for the input of Kobus Senior Lotter and Louretta Lotter and their family, Jonny Henderson, Callie Wannenburg and Piet Wannenburg
Day 5  I am sure we all had mixed emotions this morning. We were all looking forward to getting home to our families and livestock but very sad to be leaving. We drove back towards George and the coast, stopping along the way for photos of wildlife and amazing views. Lunch was at the best pizza restaurant on the Eastern Cape, their words(!), but indeed scrumptious. Onwards and the viewing point on the Swartberg Pass was well worth a stop and on such a beautiful clear day we could see down to the ocean. We were heading to Victoria Bay to relax before the long journey home. We found THE most beautiful beach with facilities and surf, and accommodation to rent right on the 'promenade'. Mmmm, maybe a stay of a couple of nights next time?!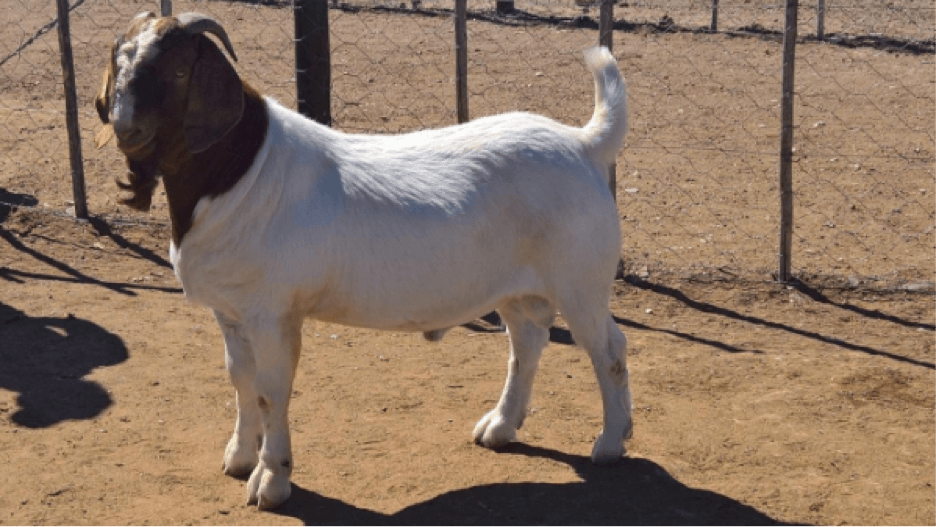 Swartberg Pass viewing point
I returned home and examined our herd in the same fashion as we had employed in South Africa. I must say I am still very pleased with the Hornets herd, definitely no Cull group!  We have beautiful does and the stud bucks are good and strong. However the trip has for sure motivated me even more to keep the standard improving year on year.
Once again, thanks to Ian Johnson for organising this amazing trip
The last time I was in South Africa it was 1983 (with McLaren for the Formula 1 Grand Prix) and I do hope my return visit will not be so delayed!  So, anyone reading this, I am open to judging appointments in 2017!
to getting home to our families and livestock but very sad to be leaving. We drove back towards George and the coast, stopping along the way for photos of wildlife and amazing views. Lunch was at the best pizza restaurant on the Eastern Cape, their words(!), but indeed scrumptious. Onwards and the viewing point on the Swartberg Pass was well worth a stop and on such a beautiful clear day we could see down to the ocean. We were heading to Victoria Bay to relax before the long journey home. We found THE most beautiful beach with facilities and surf, and accommodation to rent right on the 'promenade'. Mmmm, maybe a stay of a couple of nights next time?!