Upcoming events and shows for 2019. 
June 14th-16th, 2019 - ENTRIES NOW CLOSED Join us this year as the Royal Three Counties Show who have been hosting for 60 years at the showground.
read more
18th & 19th May 2019 - ENTRIES CLOSED UNTIL 2020. Formerly known as the Royal Welsh Spring Festival, this show returns in 2019 held in the Royal Welsh showground. With the biggest show of Boer goats to date, the weekend was thoroughly enjoyed by all exhibitors....
read more
Wednesday 29th May - Thursday 30th May ENTRIES CLOSED RESULTS FOUND HERE The Staffordshire county show 2019 is a fantastic day out for all the family. It has a lot to offer, the show will be a truly great day out for all the Family. Come and sample some superb local...
read more
Practical Lambing Workshop Prepare and refresh skills and knowledge ahead of the 2019 lambing season. Ideal for new shepherds but also an excellent update for more experienced livestock keepers wanting to update their skills and learn more techniques. Wednesday 23rd...
read more
Wednesday 27th February at 7.00pm - Sheep Health Meeting Date: Wednesday 27th February at 7.00pm Venue: Westpoint Horsham, Dawes Farm, Warnham, West Sussex, RH12 3SH Great opportunity to attend a free event to gain information you can use towards your herd. Please...
read more
Wednesday 20th February 10:30am - 3:00pm - Lamb Post Mortem Workshop Another free event run by Westpoint Farm Vets. A great opportunity to relate this to any kid goats you may lose in the future, always best to know if possible why you have lost an animal. Date:...
read more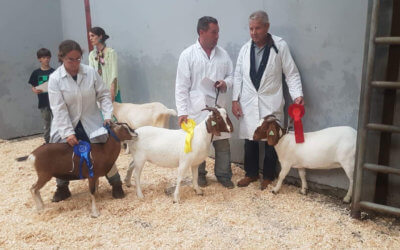 Castlerea show county Rosscomon was the 2nd venue to hold Boergoats classes for the Irish boer keepers in 2018. BBGS members attended and showed their support for the event. John Nicholson rallied the membership to attend with their animals. In total over...
read more
This is a super little show which is open to both CAE and Non-CAE Boers so should be an excellent show for most of our members to be able to enter. They also have an online entry system which was put in to action in 2018. However, please be aware that for those...
read more
June 21st-24th 2018 - See show results here!
read more
June 15th-17th 2018 - The British Boer Goat Society invited leading South African Boer Goat Judge Callie Wannenburg to judge at one of the leading Agricultural Shows in Europe. The RTCS has supported the BBGS from the beginning and the show is now recognised as the...
read more